Collimators with Micrometer
Type K MD
Type K MD
Product description
Collimators with double micrometer allow the setting of defined image angles in two directions. The movement of the reticle in x- and y-direction in the focal plane is measured with measuring drums. The scale division is 5 micrometer.
Notes of ordering
Please note the following information when ordering:
The scope of delivery of the collimators already includes a collimator reticle and bulb illumination (6V/6W, without transformer). As an alternative to the bulb illumination, LED illumination can be ordered separately.
Please specify the desired reticle when ordering.
Unless otherwise specified, the adjustment is made to infinite distance of the reticle image at a wavelength of 525 nm. Adjustment to other wavelengths or other fixed distance is also possible.
For inquiries or orders, please specify the part number of the desired product and / or the article description. The article description of collimators with micrometer is shown on the right hand side.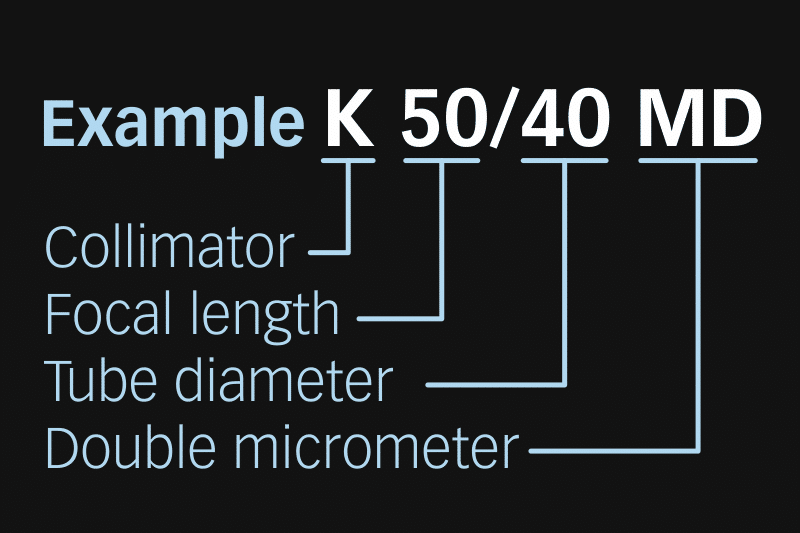 Small-size Apertures
*SD (scale division) = corresponding angle value in arcsec of one scale division of the micrometer screw
Mid-size Apertures
*SD (scale division) = corresponding angle value in arcsec of one scale division of the micrometer screw ** Compact design
Large-size Apertures
*SD (scale division) = corresponding angle value in arcsec of one scale division of the micrometer screw