Components
Product description
All components of the MELOS 530 are presented here, in order to help you to find the perfect combination for your measurement task.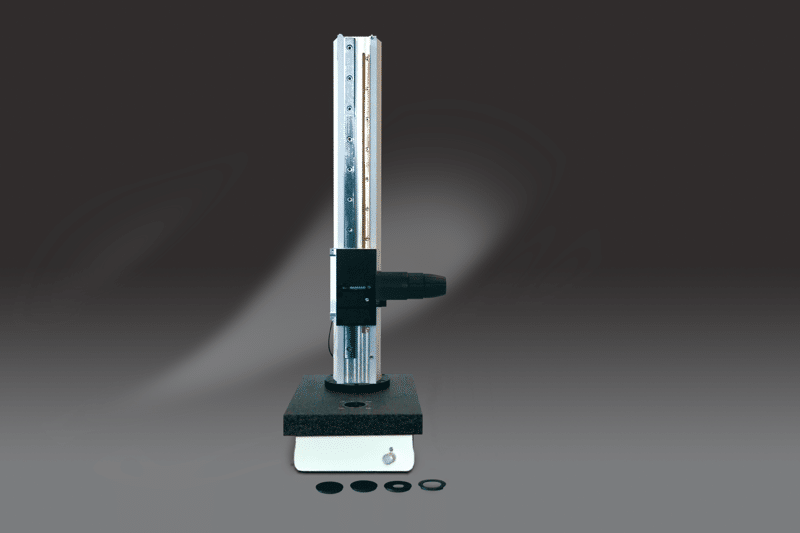 Hieght Adjustable Vertical Stand with Meas. Collimator
We offer a basic version of the height-adjustable vertical stand with K200/40 collimator integrated in the base plate and excellent straightness and high stability for the MELOS 530. Features: Vertical stand with excellent straightness and high stability. Displacement range 530 mm One-hand operation for coarse and fine adjustment Sensitivity of fine adjustment 1 µm Integrated measuring system (compatible with the display unit for radius measurement) Resolution of the measuring system 1 µm Accuracy of the measuring system 3 µm Mounting for quick exchange of measuring modules Granite base with thread for tilting or sliding table Integrated collimator K200/40 with a specially developed graticule (combination of Siemens star and porro graticule) 90° deflection mirror Set of mechanical apertures (test piece supports)
Focus-Module
Focus-Module consists of measuring head, display unit and Live Image Kit: Features: Autocollimator with revolving nosepiece Horizontal translation stage with fine adjustment and measuring system: Measurement range: 20 mm Resolution: 1 µm Accuracy: 3 µm
Display Unit
Large LCD-display with integrated software Easy to use due to menu-based user interface Integrated calculation of focal length, back focal length and radius by direct reading of the length measurement systems Adjustable GO/NO-GO tolerances Storing of measurement results (in table) Data transfer to PC via RS-232 or USB interface Integrated help function
Live-Image-Kit
The Live-Image-Kit based on a full-fledged mini-PC (Windows® 10) in combination with 19" monitor.
The Live-Image-Kit (Mini PC, monitor and software) is included in scope of delivery of the Focus-Module!
Set of Attachment Achromats
This typical set is useful for e.g. determining negative effective focal lengths and convex or concave radii in combination with a MELOS 530 or for centering optical systems with a CIFOS 800.
Display for Radius Measurement
We offer a display for radius measurement in combination with adjustable vertical stand for MELOS 530 or the Interferometer VI direct series for vertical set-ups. The display allows direct reading of radius out of the vertical position. The therefore needed stands have a integrated measurement system with: measurement range: 530 mm resolution: 1 µm accuracy: 3 µm
Note: For heavy or large specimen the horizontal set-up is recommended. The module is only offered with the associated adjustable vertical stands!
Two-Axes Tilting Table
The two-axes tilting table is compatible to the vertical and adjustable vertical stands. Features: 5° angle tilt in x- and y-axes 1 turn of the adjustment screw corresponds to a tilt angle of 0.25°
Translation Stage
The translation stage (XY-table) is compatible to the vertical and adjustable vertical stands. Features: 5 mm translation in x- and y-direction 1 turn of the adjustment screw corresponds to a translation of 0.35 mm
Converter
The converter extends the measuring range of the effective focal lengths measurement of MELOS 530 down to ±1 mm. For these focal length a measurement accuracy of 0.3% is achieved. Simple Usage: The converter is inserted in beam exit hole in the base plate of the MELOS 530 and can be instantly put to use.